Fascia is a cost-effective yet aesthetic solution that enables you to connect two or more blinds, covered by one aluminum profile up to almost 6 meters (19ft) width. This latest addition to our Absolute Roller 2.0 concept allows you to endlessly link blinds to each other without resorting any additional parts. Fascia is perfectly suitable for large window surfaces and commercial projects.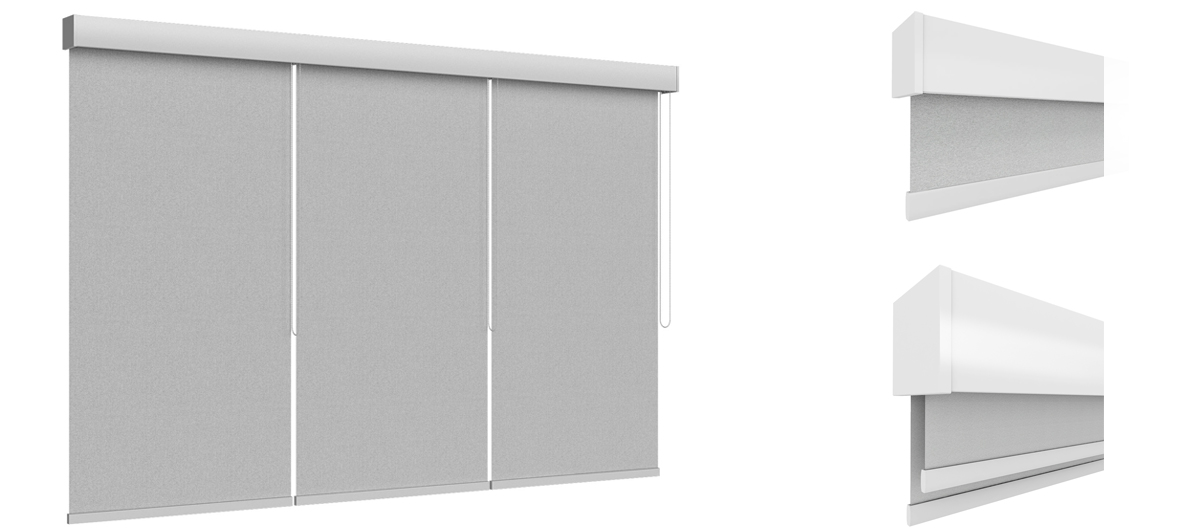 Smooth operation
With Fascia, no double brackets, additional parts or screws are needed to connect blinds to each other, thanks to specially designed intermediate and connection brackets. The aluminum profile seamlessly clicks on the brackets, resulting in a clean series of shades with incredibly narrow light gaps. A chain guide prevents for cut outs in the hardware and ensures a smooth and quiet operation.
Perfect addition to Absolute Roller 2.0
Are you already using our Absolute Roller 2.0 concept? Then Fascia will perfectly complement. It is fully compatible with Absolute Roller 2.0 size M and L. Designed to fit every interior, Fascia comes in six trending colors: white, off white, bronze, black, anthracite, and anodized. If the sides of the system are visible, you can pick end caps in matching shades. To meet your specific needs, Fascia offers various control options: chain, spring, single pull, and motorized.
Fascia Day & Night
The Fascia day and night configuration allows to combine two fabrics in one blind. This makes it possible to have sufficient daylight during the day with a transparent fabric, while at night spaces can be completely darkened with a blackout fabric.
Fascia: benefits at a glance
Cover large window surfaces and commercial buildings alike.
Connect two or more blinds covered by one aluminum profile, also available in Day & Night.
Forget double brackets, screws, and extra drilling: Fascia offers intermediate brackets.
Enjoy a smooth, quiet operation as well as the absence of hardware cutouts thanks to the special chain guide.
Take Absolute Roller 2.0 to the next level: Fascia is fully compatible.
Pick from six trending colors and end caps in matching colors.