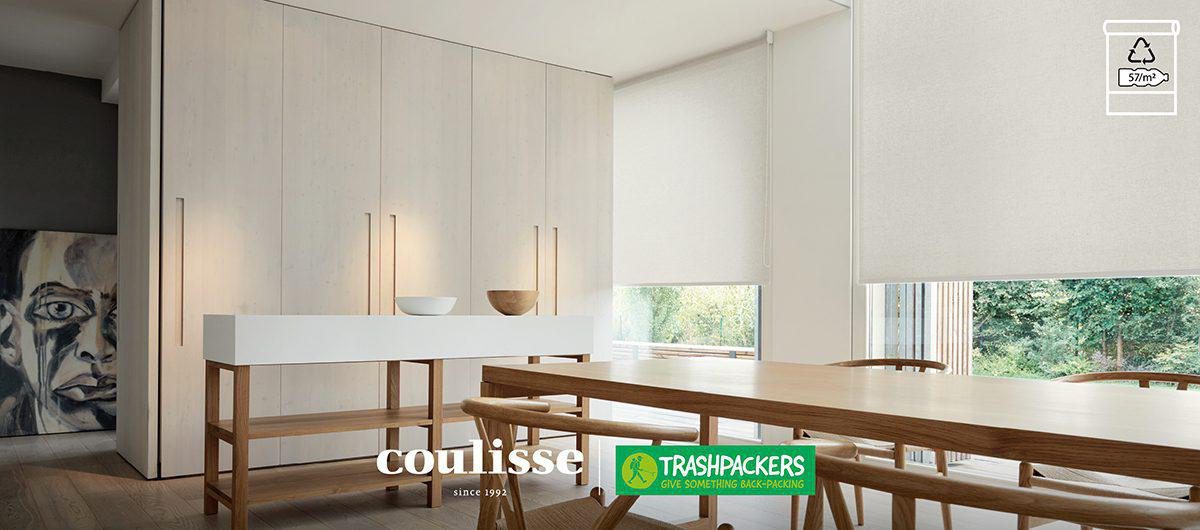 We have won the 2018 American WCMA Product Award for best technical innovation with our sustainable roller blind fabric Eco Essence and the child-safe roller blind mechanism Twin Pull!
For the second consecutive year Eco Essence, the roller blind fabric made from 100% recycled PET bottles, has won the award in the category Sustainability. Twin Pull, our child-safe alternative to chain control, was chosen in the Roman & Roller Shades category. The awards will be presented at the International Window Coverings Expo (IWCE), which will be held in Nashville (USA) from 8 to 10 March.
Eco Essence: Coulisse and Trashpackers join forces
The Eco Essence roller blind fabric is made from 100% recycled PET bottles and was once again voted best technical innovation in the Sustainability category. Last year, we started a collaboration with Trashpackers, a young global platform for backpackers who want to help create a better world by cleaning up trash. Owner of Coulisse, Christiaan Roetgering explains: 'This worthy cause is a great source of inspiration for us and with this collaboration we can add even more value to Eco Essence. We share Trashpackers' mission to create a better world by recycling plastic into sustainable products. We are proud that Eco Essence has once again been awarded a WCMA Product Award'. Coulisse will donate part of the Eco Essence turnover to Trashpackers.
Twin Pull: the solution for simple, child safe roller blinds
After its launch at the R+T 2018 in Stuttgart and being awarded Product of the Year by the renowned Dutch trade journal Z&R, Twin Pull now wins the WCMA Product Award for best technical innovation in the roman and roller blinds category. With Twin Pull, Coulisse responds to the increasing demand for for child-safe window covering solutions. Manager Engineering at Coulisse, Bas Klein Tuente explains the simple but innovative idea behind Twin Pull: 'The Twin Pull mechanism offers all the familiar features of the regular chain technique, without the hazardous loop. We have broken the operation chain to create two separate ones that can be retracted to operate the mechanism.' Twin Pull is child-safe by design and no extra, or separate parts are needed to ensure the child safety of existing blinds.